_________________________________________________________________________________________________
Ahoy me swabbies! Fishing Event has became again!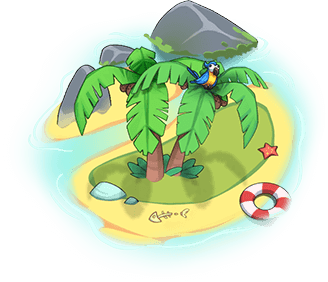 You have been waiting for this moment for a long time: it's now time to dust off your fishing rod and let's go aboard, sailor!
The fishing event is back for 2 months on Transformice!
NEW:
We have prepared for you a brand new map with an exclusive gameplay!
Come aboard your coconut and position the sail according to the wind to reach the fishing areas!
Rely on the wind rose on the upper part of your screen to direct you.
Once you reach the fishing area, press down to draw your fishing rod and catch some relic fragments!
You will also find a new fur in the Shop!
But do not worry, we had a thought for our faithful fishermice as we also kept the old good maps you loved so much 🙂
Gather and trade all the relic fragments to rebuild treasures from the past, and win prizes and adventure points!
Good fishing to all!
_________________________________________________________________________________________________
New Community Platform!
A few years ago, we used to do this kind of articles called "Community Platform", where we would try to explain what we're working on, but also our plans for the future, and various ramblings.
Not everything listed in the Paroles de Dev articles saw the light of day, but we think it's a good exercise to keep you in the loop of how we want to improve things. We've failed to communicate this clearly in the past few months (years…), but we want to remedy to this today.
1. The new Community Platform
As you all probably saw, we've completely changed the way we handle the social interactions in game. The Friendlist and Tribe interfaces were revamped, but moreover, it's the whole system behind the scenes that got redone.
The first version of the Community Platform was released in September of 2013, and we've tried to improve the system over the years, but we've quickly realized that a lot of things could not be scaled the way we wanted them to, and a couple years later, we decided that the whole thing should be replaced, instead of trying to fix something that wasn't steady enough.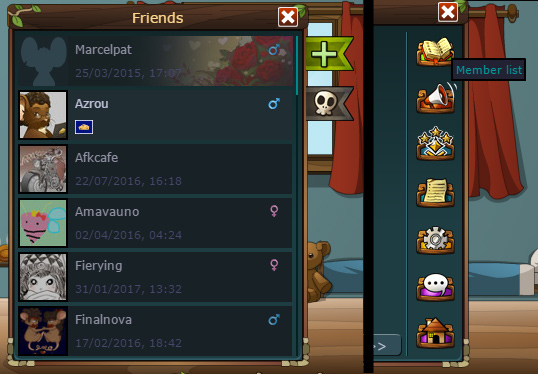 We could welcome Kongregate players' accounts without having to ask them to go through the account creation. It allowed the Name Change feature. We've cleaned the transaction system, so we can now accept payments from Kongregate accounts (the Kreds system). And we'll be able to accept payments from a lot of other websites in the future.
Moreover, this new Community Platform allows us to develop new features with a lot more ease than before. Once we are done fixing all the pesky little bugs, we can focus on providing nice additions, like an extended Friendlist, a Tribe Alliance feature, and many other nice things. We keep a big list of your suggestions in our tracking system, so don't hesitate to tell us on the forums what you would like to see.
2. The Fraise Fragments
Many of you saw in the game files and translations that there was something going on with a new item called Fraise Fragment. We are indeed working on a new way to earn Fraises in game!
Many of you don't have a way to buy Fraises, and asked for alternative ways to earn some. That is why we investigated potential partners, and found a French company called Vidcoin, that is going to help us to do so.
The system is very simple: in the shop, sometimes, you will see a new little icon appearing: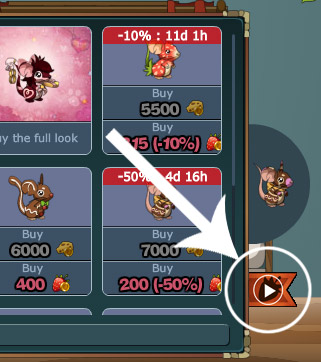 That means that you can chose to watch an advertisement video of a few seconds.
For example, watching an ad video can earn you 120 Fraise Fragments. So you will earn 1 Fraise in your Shop, and have 20 Fragments left in your inventory, to use later.
You will only see the little ribbon icon in the shop if there is an ad video available for your country. There is also some time limit between 2 video ads, decided by Vidcoin, so you won't see the icon every time you open the shop.
We will be rolling out the feature live as soon as the major bugs with the new Community Platform are fixed.
3. Unifying the events system
We needed to recycle events. Oldest players have little to nothing to fight for. While the newest players are overwhelmed by the amount of content to unlock.
This is something that we want to fix by introducing a new Adventure Points system. Every Adventure would earn the player Adventure Points, for them to show off in their profile.
We also want to add a Calendar system to show how much you've completed each Adventure throughout the years.
This is a very rough sketch of how we see it: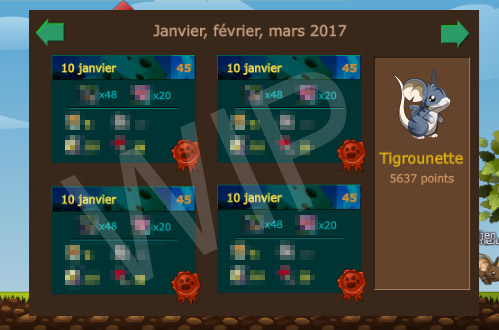 Events!
Each Adventure has different completion thresholds. For example, the Valentine Adventure completion can be calculated by the number of Hearts

 that you gather. You will earn some Adventure points at 10, 15, 20, 40 and 60 Hearts gathered. And when you reach 60, you'll get the little red wax seal, to show that you've completed the Adventure.
We will try to grant Adventure points retroactively. Based on the earning of the various Adventure badges, but it won't be possible for all of them. And we will probably grant the points slowly throughout the year and not everything at once.
We would like to push a working prototype of this system by the next Adventure. So we will keep you updated.